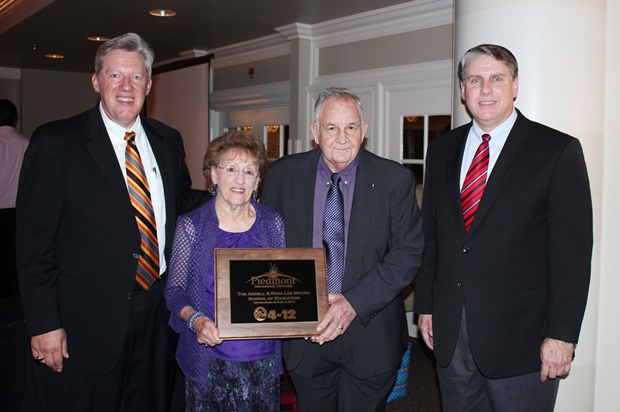 Renaming the School of Education
Out of profound appreciation for their generous contributions toward enhanced innovation and broader influence, the Trustees of Carolina University renamed the School of Education in honor of Arrell and Rosa Lee Moore on August 4, 2014.
About Arrell and Rosa Lee Moore
In a letter to CU (Piedmont International University at the time), the Moores wrote, "We are Arrell and Rosa Lee Moore and we love Piedmont. This school has had a special place in our hearts since we were students." Arrell graduated in 1958 and Rosa Lee in 1959.
Arrell was reared on a farm in Delco, NC and trusted Jesus as Savior at the age of nine in his home church. Rosa Lee was born in Winston-Salem, NC and accepted Christ at the age of eight in Chicago, IL at a children's meeting led by Dr. Warren.
The Moores have served the Lord in three churches: Salem Baptist Church (NC), First Baptist Church (CA), and then Calvary Baptist Church (NC). As faithful church members, the Moores served as teachers, greeters, and choirs members. Arrell had been a deacon, trustee, and board chairman for two Christian Camps. He was also a trustee at CU where he has served multiple terms beginning in the 1970s.
Rosa Lee's father, Lincoln Donevant, was the first fulltime professor at Piedmont after graduating from Moody Bible Institute. As a teenager Rosa Lee sang in the Chorale and took evening classes at the college. She taught first grade at Salem Baptist Day School for 30 years. Her mother started the school under the ministry of CU's founder, Dr. Charles Stevens.
The Moores were married in 1959 and remained committed to one another until their deaths in 2018.